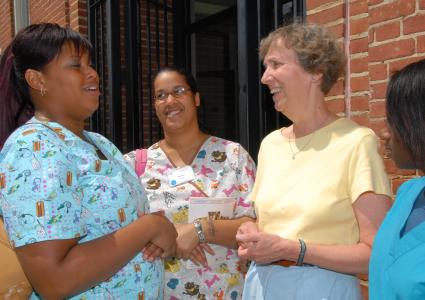 Founded 26 years ago by the School Sisters of Notre Dame (SSND), Caroline Center, named in honor of Mother Caroline's dedication to educating women and the belief that doing so transforms communities and helps shape future generations - grew out of a community-identified need for improved access to job training in East Baltimore.
The SSND first came to Baltimore in the mid-19th to educate the children on Catholic German immigrants. By the late 20th century, the grandchildren and great-grandchildren of these immigrants had moved well into the middle class, and the neighborhood around their first school – IND - experienced racial, religious, and economic transition. In 1993, 10 sisters from the province began an effort to research the needs of women in East Baltimore, concluding that employment and job training were the greatest needs for women in the area. They proposed that a job training center be established in a vacant building on the grounds of the IND - now Caroline Center located at 900 Somerset Street.
Twenty-six years later, we remain loyal to our belief in the inherent worth of each woman and the critically important role she plays in the economic, social, and personal success of her family, and by extension the City of Baltimore. In the years since, the organization has evolved significantly, transitioning from offering GED courses and clerical training to providing job training skills in upholstery, childcare, and culinary arts—our focus shifting as dictated by industry demand.
Since 1998, we have focused primarily on careers in allied healthcare because of the tremendous opportunities for career and income growth. Certified nursing assistant (CNA) programming was introduced first, followed by the pharmacy technician (PT) track. Of benefit were the strong established relationships with local healthcare employers, and again, evidence that allied healthcare was, and would remain, a field rich with opportunities for our graduates to advance their careers. Our training programs currently lead to certification in certified/geriatric nursing assistant (CNA/GNA) and pharmacy technician (PhT). In 2013, to provide our women with ongoing, lifetime support to grow their academic and professional credentials, we developed the Academic and Career Advancement Program (ACA). Over the past 25 years, Caroline Center is honored to have served over 4,000 Baltimore City women.