Wed, 10/09/2014 - 12:00am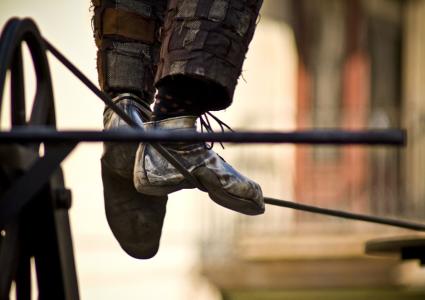 Ravens fans who are rushing to M&T Bank Stadium this week to cash in on the recent offer by the team to exchange their Ray Rice jerseys for less controversial, more desirable swag are not likely to pass by Caroline Center on their way.
Fans who are in the Federal Hill neighborhood folding up their #27 shirts to the size of twenty dollar bills and turning them in for free pizza – hold the red onions, please, we're finished crying – may not realize that a Caroline Center graduate working down the street is the pharmacy technician who greets them when they're picking up their prescription.
It's even more unlikely that most viewers of the recent National Geographic special – "Drugs, Inc.: The High Wire" – will understand that the scholarship and research typically associated with documentaries has also been cashed in for yet another reality TV episode. No one is disputing that Baltimore has a serious drug problem, but a few facts and some break-through thinking about possible solutions instead of images of tables heaped with money, guns, and pills, might be more in line with what we would hope for from a responsible media.
I don't know about you, but lately I've been feeling like we could use a few more facts, a little more integrity, and a lot less sensationalism and commercialism – all the way around. As soon as I think that we might be moving in a direction that will help us get to
the heart of real and serious issues in this town – violence against women, human trafficking, addiction, underemployment and unemployment – the important stuff gets cashed in, traded, obfuscated by a series of commercialized, sensationalized after-shocks, which some will say are well-intentioned.
Baltimore's been featured in "The Wire" and, now, "The High Wire." And, Ray Rice is not the first and will not be the last Baltimorean in the public eye to have fallen shy of our expectations. But, when our heads stop spinning from all the sucker punches Baltimore has taken, maybe things will come up in sharper focus.
Just this week, Caroline Center welcomed its 59th class of highly capable, determined, and optimistic women, whom we will educate and train for professional careers with the opportunity for advancement. Many of them live and raise their families in the
neighborhoods featured in "The Wire" and "Drugs, Inc.: The High Wire." All of them are talking about Ray Rice and what their own life experiences have been. None of them thinks that a pizza in exchange for a tainted jersey is a remedy; and, not one of them believes that either of the "Wires" tells the whole story, or even the real story. But, then again, Caroline Center women have their feet planted firmly on the ground. They know what they know – that real life should not be confused with reality TV;  and real issues, if not appropriately addressed through education and the desire for change, will be around long after we've let go of #27 and the last pizza has been served.  
Tightrope Walker image courtesy of Wiros from Barcelona