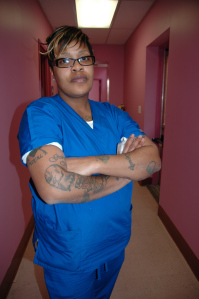 Some people write poetry. Others keep diaries. And then there are those who express themselves… through their tattoos. Cherica, a Caroline Center CNA trainee falls into the latter category. She wears her heart on her sleeve and her history on her arm. Make that arms. Neck. Back. Don't look away. Every tattoo tells a story.
Besides the tattoos, Cherica sports a shock of blond right in the front of her otherwise short, black hair. It's all part of presenting to the world a tough, rebellious exterior. Partly out of self-preservation and partly to bear witness. At 32, Cherica has seen it all. She knows first hand how the mean streets of Baltimore can steal your soul and rob you of life. She's seen friends and family get high and get killed. Their stories and tributes are on Cherica's right arm. She's got a tattoo for every family member she lost to drugs or street violence: brothers, Snook and Maurice; cousin, Noodles (killed with an AK 47); sister, Tinka; uncle, Tank. Their names and others line her arm like veins, all under the inky banner: Gone But Not Forgotten. Every tattoo tells a story.
Cherica's is a familiar tale. Her parents did the best they could but Cherica pretty much had to fend for herself.
" I grew up not knowing my own self-worth," Cherica explained. "I just didn't hear it enough. So, you know, I went lookin' for it… Hung out with the guys. Didn't really have girl friends. Got into some bad relationships 'cause I didn't know what a good one looked like…got into trouble…you know, the whole thing…"
' The whole thing' included taking some nasty turns in life. She went places she'd rather have skipped altogether.  Despite her hardcore life – as depicted by the tattoo roadmap covering half her body, Cherica had an inner compass that kept pointing her in a different direction.
"I just thought, there's got to be more to life than the money side of things. I seen the money. I had it. And it didn't make me happy. It didn't do anything to bring out my best self." Cherica admitted. " I just decided, I'm gonna show the world who I really am."
She is driven not only by the need to prove herself, but by the desire to give her three children what she never had.
" Not many people thought I got what it takes," Cherica explained. "When my oldest was born with Downs Syndrome, the nurse just assumed I wouldn't know how to take care of him or want to. She said she could find a nice family for him." Cherica is still indignant at the thought.
"I told her, 'he is my child. I will love him and raise him'. That child was like a second breath to me," Cherica confessed. "I was not going to let him down." As if signing an oath, Cherica had his name tattooed on her neck. Every tattoo tells a story.
And little by little, Cherica turned her life around. She has taken good care of her children. Protected them from the streets and taught them well. And she is in a good relationship with a nice man who works in Baltimore with the developmentally disabled. It is he who told her about Caroline Center.
"I'm doin' this for myself," Cherica explained about the Caroline Center program. She feels Caroline Center is a place where people appreciate her for who she really is and care about her wellbeing.
"They get to the root of you," Cherica said. "They want to see you succeed. They told me, 'If there's anything you want to claim, claim it! If there's anything holdin' you back, let it go!' It's not just some cookie cutter program. They help you with problems. Paperwork. Training. They act as advocates for you. Yeah, they're all that." There is something else Cherica has found at Caroline Center. Friends.
"Yeah," Cherica chuckled. "They've helped me form friendships with the other women. I've really bonded with my CNA group."
When Cherica graduates, she wants to work in an ER or shock trauma. Perhaps as a way of saving some victims of the mean streets. From there, she wants to become an LPN.
"I want to go as far as I can. I don't want to stop," Cherica proclaimed. She's in the right place to start.
Caroline Center saw in Cherica what almost no one else did. A person of promise. A person of value. A person with gifts to share and a purpose to her life.  She always knew it, but it was nice to hear from someone else.
Today, Cherica is much less rebellious, much more at peace. Her left arm tells that story. Amidst inkings of hearts and stars are tattooed the words: love, honor, respect, loyalty. If she's got any room left, she could add one more: Success.
Every tattoo tells a story.
Help other women realize their self worth and achieve success.                                         Click here to donate to the Caroline Center.